Conference Report – Patricia Taylor
Toby and I were very fortunate to be selected to attended the National Disabled Members conference. It was the first conference for both of us and we were very excited. When the day come around, we were greeted with extreme weather conditions & weather warnings of storms which resulted in our trains being delayed, train cancellations making the journey to Brighton very difficult. We arrived in Brighton wet, tired and hungry and were greeted by 100s Brighton football fans.

We were blown across the Brighton Seafront to the Conference Centre soaked from top to toe with all the other drenched members, radiators were being use to dry members clothing but this did not matter.  The conference hall was overwhelming guest speakers shared all the hard work they achieved over 2019, motions were discussed and passed and a number of members took the conference stand and gave very emotional accounts of their personal experiences leaving the conference floor in tears. We had a great time, the energy was amazing we learnt about how hard Unison has been campaigning to support disabled members, networked with other members and represented CVO.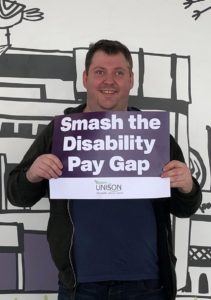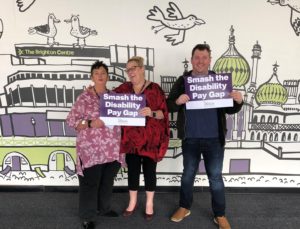 Chairs Update: –
Estimated at least 200,000 disabled members in the union.
Agreed at 2019 National Delegate conference that Unison will make 2021 the Year of the Disabled worker
Unison to have stronger voice
Unison to recruit more disabled members
Unison to raise the profile across the county
North Region recruitment at Disability Awareness Day at Warrington (Biggest UK disability event)
Lobbied parliament on disability benefits issues
National Disabled Members Committee work 2019: –
Increase in campaigning, recruitment and negotiating work
Designed and delivered a survey to identify member concerns at work
Produced a new bargaining guide for Reasonable Adjustments for local branches
Lobbying politician's for stronger protections for members
Campaigning against welfare reform
Pushing for changes to Universal Credit – "Putting disabled people at the heart of the decision-making process"
Labour Link group is co-ordinating lobbying work
Equality liaison meetings
Network days
TUC Disabled Workers Committee & Conference
Representatives sent to National Delegate Conference, service groups & self-organised group conferences
Workshop-  "Negotiating Reasonable Adjustments, Policies and Passports": –
Unison has been working to get employers to agree to the reasonable adjust policy which sets out clear responsibilities of the employer and would reduce the amount of time spent negotiating on behalf of individual members. This process would streamline the process for all parties as less representation would be needed.
Reasonable adjustment: –
Are physical, environmental or policy changes to the workplace that prevent or reduce the barriers disabled people face.
Employers have a legal duty to make reasonable adjustments where an employee is disabled and faces substantial disadvantage in the workplace
Adjustments include: –
Aids and equipment
Vehicle adaptations or taxis
British Sign Language interpreter
Personal assistance
Support worker
Job coach
Mental Health Support Service
Disability Passport: – Is a record of the workplace adjustments that have been agreed between an employee with a disability, health/mental health condition or long-term injury and their employer. The passport can be re-used and supports the employee when they change manager or employer – allowing the employee to receive appropriate support faster.
Access to work: –
Government funded programme delivered by the Jobcentre Plus
Each worker will be assessed on basis of need
Aims to get disabled people to start or stay in work
Offers Advice, guidance and provides grants towards funding workplace adjustments for disabled workers to remove/reduce barriers they face at work
Offers support to over 16s in or about to start paid employment with a disability or long term physical or mental health condition that has a negative effect on their ability to do their job
Apprentices, trainees and self-employed are all eligible
Additional Information: –
UNISONs Proving Disability and Reasonable Adjustments Guide
Access to Work – www.gov.uk/access-to-work
Remploy Mental Health Service – www.remploy.co.uk
Job Centre plus 0800 121 7479 or 0800 121 7579 (National Insurance number & employee details needed)
Providing disability and reasonable adjustments – A guide to evidence under the Equality Act 2010
Bargaining Mental Health Policies Unison