Kim has been an active member of our branch and represents us on the Regional  LGBT+ committee. Earlier this year she was involved in the organisation of and promotion of the LGBT Alliance teams London legal walk. Kim is part obscured by the Zebra crossing pole.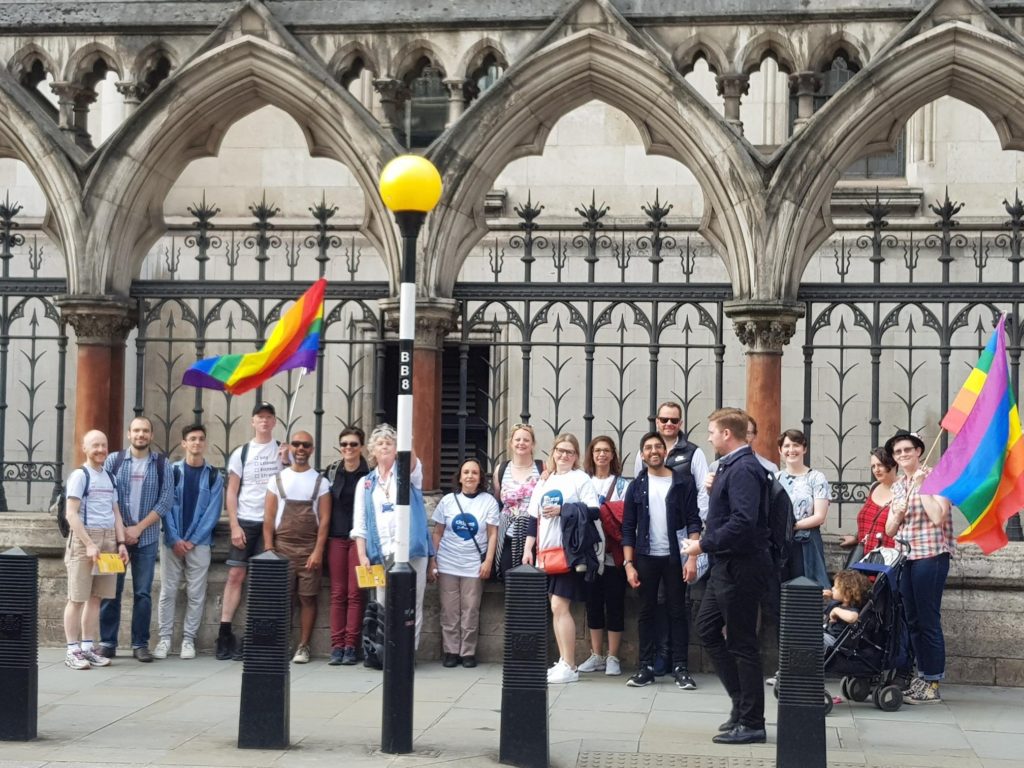 Feedback from Kim Brookes delegate from the Community and Voluntary Organisations Branch.
I attended conference this year at Bournemouth it was very cold but as usual an enjoyable event, I have attached documents this year from the different service groups I attended on behalf of our branch and hope they will give some added information for the branch committee.
I spoke on several motions as always, the most controversial was on the Ethical Procurement, I supported the motion but informed Unison that some smaller charities although they support the aims of Unison and LGBT+ and low paid workers abroad. They were not always in a position to use ethical procurement due to funding cuts and finances. I said that we cannot put some charities in the position where they lose a member of staff, just so they can buy ethically.
I spoke to the community service group executive after the vote and have been told that an amendment to the original motion, will have an amendment at the Community Conference hopefully to allow further discussion.
I voted against a motion from the Bi group wanting to have Bi+ added to their group, I did this because they were trying to say that Non-Binary, Pansexual, Gender Fluid, needed a group they could belong to, I was not convinced by the argument we have just gone through a process at national level making the LGBT group inclusive, we are now LGBT+, I did not speak on the motion but voted against it as I believe it's a political move to gain numbers not as was stated to be more inclusive.
I also spoke on two motions that I believe should have been connected, mental health and education in schools understanding LGBT+ issues, the suicide rate is very high among young LGBT+ people, so the support for more mental health resources and the education in schools complement each other.
I hope I have represented the C.V.O.B on a number of issues, not all controversial but at every opportunity I raised the branch's profile, I now sit on the Greater London LGBT+ committee and will be raising our profile there.
I attended the Labour Link service group, where several speeches were made by some delegates who attend the Labour Conference (See Attachment).
I attended the retired members group and spoke about the charity sector and in how we have retired members volunteering, I also raised that Unison is slow in recognising the charity sector in its one size approach does not fit all sectors, we are the largest growing sector and Unison needs to move forward with that especially where retired members are concerned. In our sector these skills they have are invaluable. In some cases we have had retired members raise funding for projects and have been successful and are back in the work place albeit in a temporary role due to the funding of the project.
On a lighter note I was able to get a bag from the Welsh region community group, they do their own design and it was a must have, I have attached the photo and I hope you agree that it was;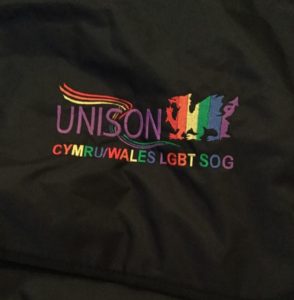 I thank the branch for allowing me to attend conference it has been very beneficial looking at the different approaches, and networking with other branches which we need to do now we hopefully a viable branch.
I have met people with more experience and this can only be a good thing for us to take our place in the Unison Family.
Kim Brookes
LGBT+ Delegate.
Documents on motions and fringe groups available here.