This year I was the only delegate from Community & Voluntary Organisations Branch I spoke on a number of motions.
Keynote speakers were UNISON President, Gordon McKay and Christine McAnea (Assistant General Secretary for Bargaining, Negotiation and Equalities) along with the fantastic Alison Lowe from Touchstone Support, based in Leeds.
Touchstone is a multi-award-winning organisation that provides mental health and well-being services to over 2000 BME people a year, whilst also working across all communities to grow their confidence and capacity.
As usual, there was a very packed agenda with 33 motions for debate covering issues including cross-branch working, marriage equality, and procurement of services, conversion therapy, and non-binary inclusion and harnessing the skills of young and retired members.
There was considerable debate around motions on trans-phobic attacks from within the Labour movement, reform of the Gender Recognition Act 2004, Palestine/'Pink Washing', the Government's LGBT Action Plan and Conversion Therapy.
Conference agreed unanimously to change the name of the group to LGBT+ which would not change its existing remit of being a self-organised group for all members who experience prejudice because of their gender identity or sexual orientation, but would demonstrate an inclusiveness beyond that conveyed by our current name so that people who we consider to be members are not put off from participating.
Consequently, Conference motions to National Delegate Conference (NDC) will be a policy motion to that effect and a rule change to enact it.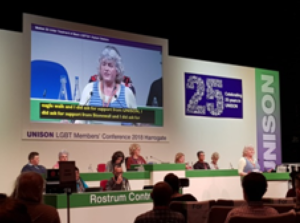 I spoke on motion 33 the unfair treatment of LGBT Black Asylum Seekers and the support of (UKLGIG), I told conference of the London Legal Walk when I set up the LGBT Alliance team which raised £800 for the UK Lesbian & Gay Immigration Group (UKLGIG) and the lack of support I received from Unison LGBT, Stonewall, and Pride.
Conference also overwhelmingly rejected the call to create Reserved NEC Seats for LGBT members on the basis that it was legally problematic, the actual constituency could not be defined and LGBT Self Organisation does not wish to replicate the current system which would mean that non-LGBT members could vote for who represents LGBT UNISON members.
In addition to the main conference, I attended meetings of the Community Service Group where, along with the National Officer, Community members were updated on the initiatives undertaken by the Service Group Executive in pursuit of the LGBT motions to 2018 Community Conference.
It was interesting to note after 25 years in UNISON not only the significant impact it has made through political lobbying (to change legislation) but how far the  debate has developed, reflecting the wider changes in society  we have experienced and how UNISON has helped shape the journey.
All in all it was a busy conference for me and I tried to ensure that the branch was visible (and audible!) through my interventions and presence.
Kim Brookes