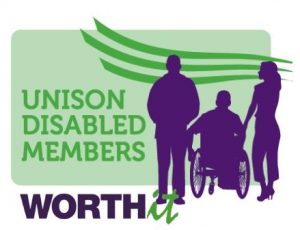 I arrived to Manchester and I went to the first meeting of the afternoon which was the women Caucus meeting; we discussed motions that were due to be debated at conference. It was agreed that I would move motions 8 :- Reasonable Adjustments and 11 :- Hate incidents and mate crimes.
There were four workshops available to delegates these were; Mental Health and Wellbeing, All about Autism, PIP and Universal Credit, and Hate Crime. I attended the hate crime workshop, as this seemed to be an issue that I wanted more information about. There was a presentation from the stop hate charity, and they provide useful examples of hate incident and hate crimes. They also provided useful contact details. However, this was just for certain parts of the UK.
The rest of the afternoon was regional meetings; I attended the Greater London regional meeting where we discussed potential motions for next year's conference.
Conference was opened by Maggie Griffin, Deputy Co-Chair of the National Disabled members committee. We discussed the standing order report and the annual report both of which were support by delegates.
Our first guest speaker was Margaret McKee, unison president.  She informed conference of work that she has done, since being elected at NDC 2017. She highlighted the pay up now campaign which is asking government to look at the national living wage. She encouraging delegates to go out and increase our recruitment so we can do more positive work in the public sector.
She discussed her charity of the year, Rosemount house. There is at at least one person in every family, extended family included, who will be impacted by mental health, and or drug addiction. Margaret discussed her personal relationship with this charity which had supported her son in the past. She described the great work that they do, not just to support her clients but also their families.
For the afternoon, we had a guest speaker Marsha De Cordova, MP for Battersea who discussed her role in Parliament and her experience of being a black disabled woman. She encouraged more people to become involved in politics. After her speech, it was my turn to deliver motions 8 and 11. I was quite nervous about giving my speech but also excited about this opportunity which was given to me. I felt so welcomed on stage by the other delegates support for first time speakers. I am proud to say that a Motion which started as an idea from the Community group about Reasonable Adjustment and the impact delays has on workers was now being debated at Conference. It gave me great joy that it was supported by Conference. Most of the motions that were up for debate were discussed during conference and supported by the majority of delegates.
At the Community service group meeting, we were updated as to what is currently going on and discussed two motions to take forward to the community conference 2018. They mentioned that there will be a similar "PAY UP NOW" campaign for the community sector.  One of the potential motions was  about tendering terms and condition and the other about disabled employees being able to pay minimum wage to their personal carers. We also discussed the issue about reasonable adjustment at community conference and ensuring that disabled members needs are taken into account.
Labour link meeting was the last meeting of the day. There was an update about changes which will affect new members in April, as they will now have to pay the affiliation costs on top of their UNISON subs. There will be a consultation about this and branches need to feedback.
Monday morning, Roger McKenzie, Assistant general Secretary spoke about what we currently doing in regards to organising and recruitment and ensuring that we are working for the next generation. Conference came to end at Monday Lunch time.  For me this was a weekend experience that really truly allowed for me to be active in unison.  Everyone was so friendly and supportive that it gave me the confidence to want to make a change. I put myself forward to election on the standing orders committee for the national disabled member's conference and now I await the results.
Report by Emilyn Hutchinson (Centre)